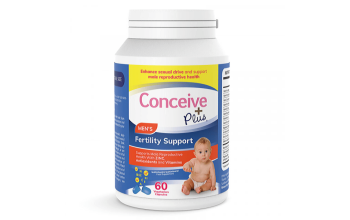 Conceive Plus Men's Fertility Support vitamins (60pcs)
✅ Restoring Libido & Sexual Health
✅ Increasing Serum Testosterone
✅ Improving Impotence & Erectile Dysfunction
Conceive Plus Men's Fertility Support includes a balanced, top-quality nutrient profile geared towards fertility. Not only does it help boost testosterone, but it is also the go-to supplement choice for men across the world. For best results, use fertility support vitamins for at least 3 months to allow the body to properly prepare for conception. Use fertility lubricant when having sex on peak ovulation days to increase the chances of natural conception.
Key benefits:
✅ Restoring Libido & Sexual Health
✅ Increasing Serum Testosterone
✅ Improving Impotence & Erectile Dysfunction
✅ Heightened Energy & Vitality
✅ Healthy, Viable Sperm
For a vivacious libido and improved sperm quality, choose Men's Fertility Support. Conceive Plus, Men's Fertility Support provides vital nutrients that will enhance fertility, in addition to increasing testosterone and sperm volume.
Conceive Plus is the go-to source for all things fertility. Our Men's Fertility Support supplement is a proprietary blend that replenishes essential vitamins and minerals that you may be missing.
Conceive Plus Men's Fertility Support—For Vivacious Sexual Health
Conceive Plus Men's Fertility Support helps provide your body with essential nutrients to create life. Whether you're struggling to conceive or want to bolster your chances of conception, give Conceive Plus a try. When it's time to start a family, order Conceive Plus and improve sperm count and volume.
Start taking 3 months before planning to conceive! (1 month supply/60 capsules per bottle). For best results, choose Conceive Plus for 3 months. Buy more and SAVE!
Top-Quality Supplements from a Trusted Fertility Health Brand
Gluten-free, Wheat-free, Egg-free, Soy-free

Suitable for Vegetarians

No Artificial Flavors

No Preservatives
A Powerful Fertility Blend for Men with Testosterone Boosting Ingredients.
✅ Zinc: Increases Serum Testosterone Levels. Zinc is known to increase male sex drive and restore libido. Equally, this vital trace mineral also fights off estrogen-dominance and is necessary for protein synthesis (i.e., building muscle and creating new life).
✅ Maca Root: Reduces the Stress Hormone Cortisol. Maca Root is an adaptogen, meaning it adapts to any stressors wreaking havoc on your body. Maca lowers Cortisol, also known as "the stress hormone." With stress levels lower, your body has a higher capacity for essential fertility functions like manufacturing sperm and balancing libido. Strengthens viability and motility of sperm.
✅ Green Tea Extract: Antioxidant Powerhouse. Oxidative stress wears the cells due to stress, an inflammatory diet, pollution, and more. That's why you need antioxidants. With Green Tea, your body can repair the damage created from oxidative stress, allowing you to produce more fertile sperm.
✅ L-Arginine and L-Carnitine: Essential Amino Acids. Mitochondria, the powerhouse of all cells, need fatty acids to function optimally. L-arginine and L-carnitine provide mitochondria with fatty acids for increased energy and help to reverse impotence.
✅ Multivitamin and Multimineral: Balanced Nutrient Profile. The modern man usually isn't up to par when it comes to vitamins and minerals. From poor food choices, sleep deprivation, chronic stress, and more, our bodies can rapidly burn through stores of vitamins and minerals. Our fertility supplement allows most men to meet their daily nutrient requirements, not only for a healthy body but also for a healthy conception.