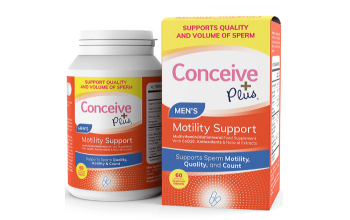 Conceive Plus Men's Sperm Motility Support vitamins
Conceive Plus Men's Motility Support targets vital nutrients that will enhance sperm health and quality, in addition to increasing volume and count of sperm.

Conceive Plus is the go-to source for all things fertility. Our Men's Motility Support supplement is a proprietary blend that provides key nutrients that promote Men's health. Conceive Plus Men's Motility Support—For Healthy and Vivacious SpermConceive Plus Men's Motility Support helps provide your body with key nutrients to create life. Whether you're struggling to conceive or want to bolster your chances of conception, give Conceive Plus a try. When it's time to start a family, order Conceive Plus and improve sperm health, quality and motility. Start taking 3 months before planning to conceive! (1 month supply/60 capsules per bottle). For best results, choose Conceive Plus for 3 months.

Gluten-free, Wheat-free, Egg-free, Soy-freeSuitable for Vegetarians.
No Artificial Flavors. No Preservatives.
Promoting Sperm Quality

Boost Volume & Count of Sperm

Healthy, Viable Sperm

Supporting Sperm Motility

Enhancing Sexual Drive


✅ Zinc: Increases Serum Testosterone Levels. Zinc is known to increase male sex drive and restore libido. Equally, this vital trace mineral also fights off estrogen-dominance and is necessary for protein synthesis (i.e., building muscle and creating new life).
✅ Ginseng Root:

Often considered as one of the King of all herbs, Ginseng is a promising nutrient to improve general well-being.

In traditional Chinese medical practices, Ginseng root is recognized to enhance sexual behavior and treat sexual dysfunction and is used for

its promising aphrodisiac properties. Moreover, Ginseng is found to improve sperm count and quality thanks to the action of ginsenosides, the main pharmacological active components of ginseng.



✅ Ashwagandha (Withania Somnifera) Extract:

is used as a general tonic to help the body manage daily stress. Its health benefits are linked to stress and anxiety reduction and blood sugar levels, mood and memory improvement. Ashwagandha is also used for increasing sexual drive and improving sperm quality.



✅

N-Acetyl-Cysteine, L-Arginine and L-Carnitine:

Essential Amino Acids. Mitochondria, the powerhouse of all cells, need fatty acids to function optimally. L-arginine and L-carnitine provide mitochondria with fatty acids for increased energy and help to reverse impotence. N-Acetyl-Cysteine is an excellent scavenger of free radicals helping improve the testosterone amount and semen quality.



✅ CoQ10:

Acts as an antioxidant that helps the body prevent and restore damage caused by oxidative stress. CoQ10, or Ubiquinone, is an important vitamin-like nutrient necessary for the proper function of many organs and chemical reactions in the body. It helps provide energy to cells and spermatozoids.



✅ Vitamin E and Selenium:

A balanced vitamin and mineral blend having antioxidant properties. Selenium is a structural element of mature spermatozoa which also improves sperm count. Vitamin E can improve sperm motility. Vitamin E and Selenium are synergistically working together as antioxidants that help protect the sperm's cell membrane from damage and improve semen quality.



Daily dose is 2 capsules:
Zinc- 15mg 150%
Vitamin E - 8mg 67%
Mananese - 1,8mg 90%
Vitamin D - 20mcg 400%
CoQ10 - 60mg**
Herbal Blend: (Panax Gingseng 20:1 (root),

(Withania somnifera) 12:1 (root) - 45mg**
Proprietary Blend:

N-Acetyl-Cysteine, L-arginine, L-Carnitine (tartrate) - 950mg**





Ingredients:

L-Carnitine, L-Arginine, N-Acetyl Cysteine, Vitamine D (cholecalciferol), Manganese (manganese sulfate), Zinc (zinc oxide), Vitamine E (dl-alpha-tocopherol acetate), CoQ10 (Ubiquinon), Withannia somnifera ectract 12:1, Ginseng concentrate extract 20:1