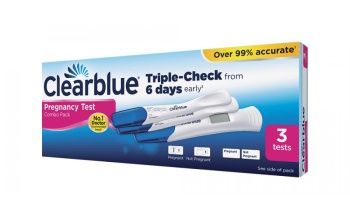 Clearblue Pregnancy Test Triple Check Testing Kit – 3 Test Pack
Clearblue Value Pack – Triple Check offers you the possibility to test and confirm the result. It contains three Clearblue Pregnancy tests for confidence when you need it most. This sale item includes 1 x Digital Early Detection Clearblue pregnancy test and 2 x Early Detection Clearblue pregnancy tests.

Clearblue Digital Early Detection Pregnancy test is an accurate and easy to use pregnancy test. It gives a digital result and has a unique progress indicator (Smart Countdown) that counts down to the result, to reassure a woman every step of the way until her result is displayed.
The Smart Countdown appears after sampling and is displayed in a four segment format on a liquid crystal display (LCD). The four segments illuminate in sequence, to reassure the user that the test is working, and provide an indication of when they can expect their result to appear on screen:

Results are displayed digitally in words – 'Pregnant' or 'Not Pregnant', within 3 minutes; in some cases a result may be displayed in as little as 1 minute, in which case the Smart Countdown feature will count down more quickly.

A 'Pregnant' result will be shown on the display for up to 6 months, enabling women to share their result with their Healthcare Professional or family and friends; a 'Not Pregnant' result will be shown for approximately 24 hours.

Sensitive enough to be used up to 4 days before the expected period.

Clearblue Early Detection Pregnancy Tests

This test has an Absorbent Sampler that changes colour from white to pink, in order to show that urine is being absorbed. Clearblue Early Detection Pregnancy Test can be used up to 6 days before your missed period. Clearblue features an ergonomic design, including a longer, curved stick, and wide colour-changing tip. Clear and simple result layout: 2 lines if you're pregnant, 1 line if you're not pregnant.