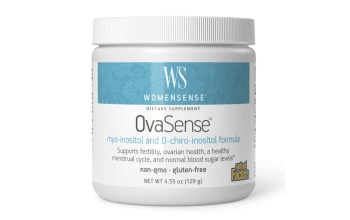 Womensense PCOSense myo-inositol, d-chiro inositol and folate
Supports a healthy menstrual cycle, fertility, and normal blood sugar levels. WomenSense is a line of products dedicated to helping women reach their full health potential. PCOSense combines myo-inositol and D-chiro-inositol at a 40:1 ratio along with folate and vitamin B12 to help support normal ovarian function, egg quality, and healthy blood sugar levels already within the normal range.
Mix 1 scoop (2.15 g) in 8 fl oz of water 1-2 times per day or as directed by a health professional.
Other ingredients: Organic rice hull concentrate.
Contains no artificial colors, preservatives, or sweeteners; no dairy, starch, sugar, wheat, gluten, yeast, soy, egg, fish, shellfish, animal products, salt, tree nuts, or GMOs.
Serving size: 1 scoop 2,15g:
Folate (L-5-methyltetrahydrofolate, calcium salt) 200mcg - 100%
Vitamin B12 (methylcobalamin) - 1,5mcg - 60%
Myo-Inositol 2000mg**
D-(+)-Chiro-Inositol - 50mg**
**Daily Value not established.