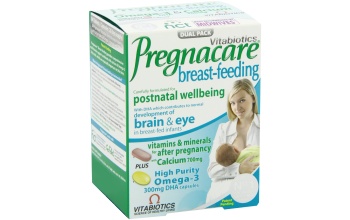 Pregnacare Breastfeeding 56+28 pcs
Pregnacare® Breast-feeding provides comprehensive multivitamin support combined with calcium & omega-3 fatty acids, which are especially important at this time. Pregnacare Breast-Feeding dual pack. Vitamin, mineral and calcium tablets plus Omega-3 capsules, for the months following childbirst and during breast-feeding.
The ideal postnatal supplement for the 6-9 months following childbirsth, to help ensure optimum levels of nutrients and assist the body following pregnancy. Can be taken whether or not you are breast-feeding. To maintain health throughout breast-feeding as the intake recommedations of certain nutrients are increased during lactation. Maternal breast-feeding is strongly recommended for the newborn baby as it provides essential nutrients and antibodies for long term health. To healp maintain bone health in mothers who avoid diary products and for breast-feeding mums. Contains the recommnded 10ug vitamin D3 and the RNI of 700mg calcium (Reference Nutrient Intake)

Pregnacare® Breast-feeding provides:
Two (2) Pregnacare® Breast-Feeding tablets per day, plus one (1) omega-3 capsule per day. Swallow each with water or a cold drink and take with a main meal.700mg calcium, plus magnesium and vitamin D3 which are also important for healthy bone development. Iron, B complex to help support new blood formation and for energy release at a time when there are considerable demands on a new mum. Each capsule provides 300mg DHA, the level recommended by international experts for mums during lactation.

Nutritional Information - per 2 tablets - Energy nil kJ / nil kcal Fat nil g of which saturates nil g Carbohydrates nil g of which sugars nil g Protein nil g Salt nil g Vitamin D (as D3 400 IU) 10 µg Vitamin E 20 mg ɑ-TE Vitamin K 70 µg Vitamin C 70 mg Thiamin (Vitamin B1) 5 mg Riboflavin (Vitamin B2) 2 mg Niacin (Vitamin B3) 20 mg NE Vitamin B6 10 mg Folic Acid 400 µg Vitamin B12 6 µg Biotin 150 µg Pantothenic Acid 6 mg Calcium 700 mg Magnesium 150 mg Iron 16 mg Zinc 15 mg Copper 1000 µg Selenium 30 µg Iodine 140 µg Betacarotene (Natural source) 2 mg
Omega-3 DHA Capsules - Omega-3 Fish Oil (Docosahexaenoic Acid Concentrate) (from Fish), Capsule Shell: Pharmaceutical Grade Gelatin, Glycerine & Natural Flavour Lemon Oil.
For allergens: Fish, Soya.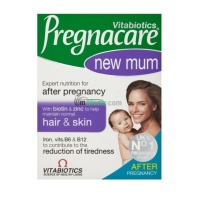 24,90 €