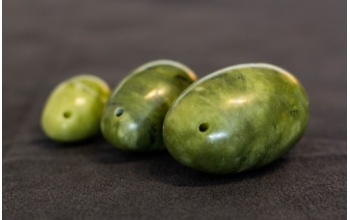 Jade egg / yoni egg
Jade egg heals vaginal muscles after childbirth, increases fertility and vitality, releases trauma from sexual abuse and friction-sex, encourages healthy menstruation, relieves pre-menstrual (PMS) symptoms. It helps heal a woman's reproductive system and balance hormones, while cleansing unwanted energies! Jade egg practice tone, strengthen, and balance the pelvic floor muscles.

Kegel Exercisers are the perfect solution to strengthen your pelvic floor muscles,helping you gain pelvic strength in an easy,effective,and convenient way. Ideal for every woman,it will helps you to prevent incontinence, prepare for a healthy pregnancy, restore pelvic strength after childbirth and maintain vaginal tightness.

Size S 20mm x 30mm for advanced trainers, small women or have no children. Weight ~20g.
Size M 30mm x 40mm classical size, for most women. Weight ~40 g.
Size L 30mm x 50mm fits for the beginners Weight ~70g.
You should also take size L if you have delivered a baby in the last few months or if you barely feel your sexual partner inside.

All eggs are handmade.
The colour of each jade egg may have a little difference,because they are all natural.

Do not use if you are pregnant!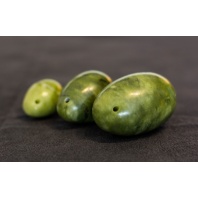 64,90 €