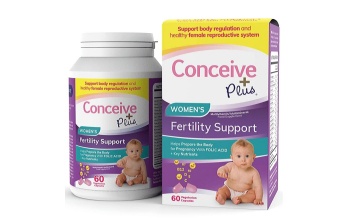 Conceive Plus Women's Fertility Support vitamins (60 pcs)
✅ Helps to prepare the body for conception
✅ Key fertility ingredients Myo-Inositol and Folic Acid
✅ 60 Capsules per bottle / one month supply
Premium quality fertility prenatal for women trying to conceive with minerals that support and prepare the body for conception. We suggest taking for three months, save when you order three bottles.
Conceive Plus Women's Fertility Support is formulated with key ingredients to helps balance monthly cycle & hormones to prepare the body for conception.
When it's time to try for a baby take Conceive Plus Women's Fertility Support to enhance the body's natural fertility. Conceive Plus is the go-to source for all things fertility. Start taking 3 months before planning to conceive!
Use Women's Fertility Support supplements with Men's Fertility Support Supplements to enhance conception, naturally.
Key benefits:
✅ Helps prepare the body for Conception
✅ Strengthens Female Reproductive Health
✅ Improves infertile conditions (i.e. PCOS, cycle and/or hormone irregularities)
✅ Formulated with Inositol, Folate, Amino Acids, Antioxidants + more
✅ Aids conception, naturally
With the help of top-quality vitamins, minerals, amino acids and more you'll greatly improve your reproductive health and enhance the body's conception capacity. We've formulated our Women's Fertility Support supplement with many key ingredients needed to assist the fertilization process. Whether you're struggling to conceive or are fully fertile, order Conceive Plus Fertility Support to help the female body obtain key nutrients for a healthy conception.
Conceive Plus Women's Fertility Support is for ALL women trying to conceive (TTC).
For empowered female reproductive health, choose Conceive Plus Women's Fertility Support. Conceive Plus Fertility Support supplement is created specifically for women, to provide key nutrients that boost fertility. Our Women's Fertility Support supplement formula has many key ingredients needed to assist the fertilization process.
Top-Quality Supplements from a Trusted Fertility Health Brand
Gluten-free, Wheat-free, Egg-free, Soy-free

Suitable for Vegetarians

No Artificial Flavors

No Preservatives


Here at Conceive Plus, we've included physiologically-important ingredients in our fertility support supplement for all women of all backgrounds to conceive. We've addressed common nutrient deficiencies among women Trying to Conceive (TTC) and included important amino acids and ingredients like Inositol, key for a healthy conception
✅ Folate: Vitamin B9 Key for Conception. Folic Acid, or Vitamin B9, is utilized in the body to create cells (both your own and when making new life). Multiple studies prove a reduction in birth defects with adequate levels of Folate.
✅ Inositol: Helps Treat PCOS and Infertility. Up to 72% of women with PCOS experience infertility. But, it doesn't have to end there. Inositol, found abundantly in the brain, assists women experiencing infertility and PCOS restore their fertile health. Inositol also helps regulate your cycle.
✅ L-arginine, Cysteine, Taurine: Essential Amino Acids. Thinking back to your science or nutrition classes, you may remember amino acids are the building blocks of proteins. But, we need amino acids for more than just making protein. These amino acids help to prevent and reverse sexual issues by increasing blood flow to the genitals.
✅ Trace minerals: Zinc, Selenium, Copper for Balanced Hormones and Circulation. Trace minerals work together in the body for nearly all functions related to fertility or not. These essential minerals are essential to balance estrogen, maintain a healthy nervous system and assist with sperm migration to the egg.
✅ Multivitamin: Antioxidant-Rich and Full of B Vitamins. We've included a variety of antioxidants that help the body prevent and restore damage caused by oxidative stress. B vitamins boost energy and B9 supports fertility.
Each bottle contains 60 capsules for 1 month use.
Conceive Plus is the trusted brand supporting fertility, naturally. Start your journey on the path to getting pregnant today!